CCOR - Cs/Cc/B3 corrector for TEM (achroplanatic)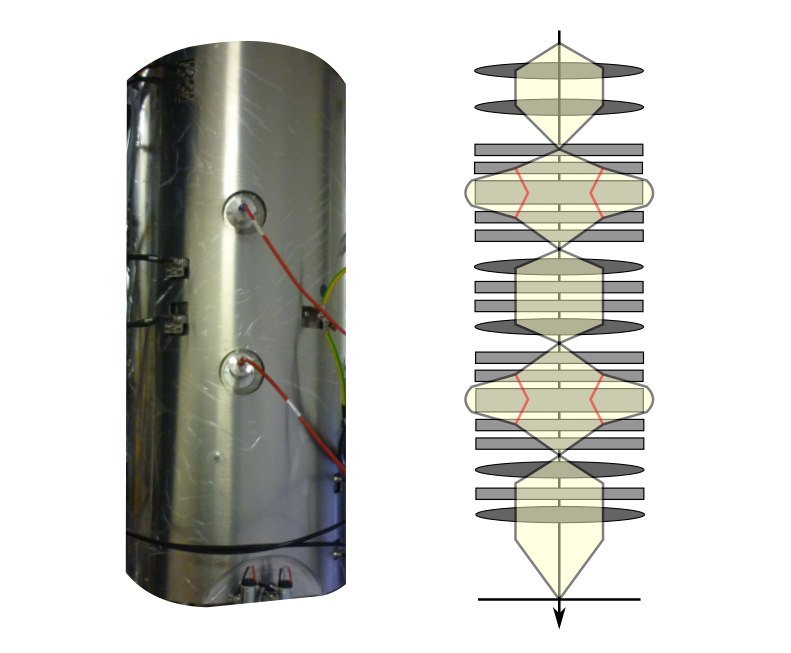 The CCOR Cc/Cs-corrector for transmission electron microscopy (TEM) was developed within the TEAM project to enable a resolution of only 0.5 Angström (0.05 nm) in TEM. The CCOR is a quadrupole-octupole-type corrector which corrects for the third order spherical aberration Cs=C3 and the off-axial coma B3 and, moreover, removes the linear chromatic aberration Cc. The correction of Cc requires not only magnetic multipole fields but also very strong electrostatic quadrupole elements (up to +/- 8kV). CEOS is the only company world-wide, which successfully applies this elaborate technology for aberration correction in TEM. The optical design of the CCOR enables complete axial aberration correction of the 4th order and partial correction of the 5th order. Moreover, all off-axial aberrations up to including 3rd order can be corrected (aplanatic imaging). The residual chromatic aberrations are so small that a large energy window of about 1 keV can be imaged with hardly any defocus variations (achromatic imaging). Because of these properties, the CCOR is a so-called Achroplanat. The correction of the chromatic aberration Cc does not only considerably improve the TEM's information limit (resolving power), but also enables a much higher image contrast due to the additional contrast contribution of inelastically scattered electrons which otherwise only form a blurred image background in Cc-uncorrected images. Therefore, in materials science the CCOR opens up new applications in the context of energy-filtered TEM imaging (EFTEM) and electron energy loss spectroscopy (EELS), and is especially useful for investigations on thick object structures. In life sciences, the CCOR is especially advantageous for cryo electron microscopy (cryoEM) and cryo tomography where intense inelastic scattering occurs due to high sample thickness and high sample tilt. The CCOR manages that those electrons still largely contribute to the image contrast.
Features:
Quadrupol-octupol type corrector for TEM
Simultanious correction of the chromatic aberration Cc, the spherical aberration Cs=C3 and the off-axial coma B3
Adjustable for high tensions from 50 kV up to 300 kV
Corrects all axial aberrations up to 5th order(C1, A1, B2, A2, C3, S3, A3, B4, D4, A4, S5, R5).
Corrects off-axial aberrations up to 3rd order(A1g/G, A2g/G, B2g/G) for large fields of view, e.g. with a 4kx4k-camera
Compared to the use of a monochromator for resolution improvment Cc correction offers a much more intense electron beam at the same or better image resolution and therefore allows much shorter exposure times hence higher throughput.
Higher image contrast due to additional high-resolution contrast contribution from inelastically scattered electrons by Cc correction.
Compatible with the following TEMs:TFS Titan, others on request
Specifications:
Device dimensions: 638 x 638 x 829 [mm]
Mode: TEM (Cryo-TEM)
High voltage range: 50kV – 300kV
Applications :
In materials science especially useful for ultra-high resolution TEM and spectroscopic imaging (EFTEM).
In life sciences especially useful for cryo-TEM and cryo-tomography of thick samples, e.g. whole cells.
Contact
Do you have any questions about the product or the application and extension for your e-beam system? Please contact us at info@ceos-gmbh.de