Omega-Monochromator for TEM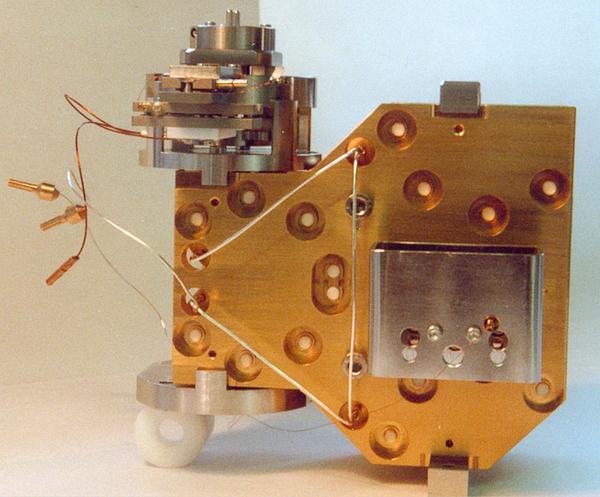 The CEOS Omega-Monochromator has been designed for the use inside the electron source of a transmission electron microscope (TEM). Due to its purely electrostatic structure the monochromator is usable in ultra high vacuum (UHV) and can be driven without remanence. For an optimization of the energy width and the beam current for your application, the instrument has an movable array of slits of various sizes. Due to the high energy dispersion of 12 µm/eV which is generated in the monochromator, an energy widths of 0.7 eV (monochromator off) up to 0.05 eV (monochromator on) can be produced, without introducing disturbing aberrations. The electron beam is free of spatial- as well as angular-dispersion after leaving the monochromator. The instrument name comes from the "Ω-shaped" beam path. This beam path is explained in more detail in fig. 1. It is easily possible to turn off the Omega-Monochromator and to use the microscope in its standard mode with a straight beam path and without remanece. Furthermore the Omega-Monochromator can be used for other types of electron beam instruments and even for ion beam applications.
Features:
Monochromator with "Ω-shapped" beam path and usable for the integration into the electron source of a TEM
Movable slit aperture with different slit sizes for the optimization of the desired energy width
An energy width between 0.7eV (Monochromator off ) up to 0.05 eV (Monochromator on) are possible due to the large energy dispersion of 12 µm/eV inside the monochromator
No introduction of disturbing aberrations after the beam leaves the monochromator
No spatial- or angular-dispersion after the beam leaves the monochromator
Usable in ON and OFF mode
Compatible with the following TEMs: Zeiss TEM Libra 200. Others on request.
Specifications:
Device dimensions: 116 x 139 x 46 [mm]
Mode: MC-TEM, MC-STEM, EELS (MC=monochromatic)
High voltage range: 30 – 200 kV
Applications:
Electron energy loss spectroscopy with highest energy resolution
Low-voltage applications for TEM and STEM
High-resolution TEM with improved information-limit
Contact:
Do you have any questions about the product or the application and extension for your e-beam system? Please contact us at info@ceos-gmbh.de