BCOR - Cs/B3 TEM-corrector for aberration-corrected TEM imaging using large scale fields of view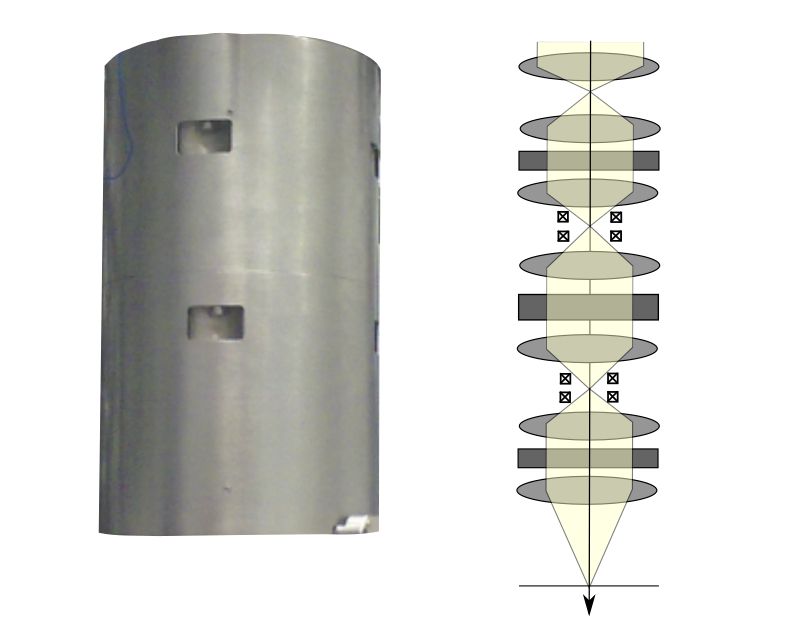 After successful Cs-correction (spherical aberration C3) the off-axial coma is the next intrinsic round lens aberration, which limits the resolving power of the TEM. This is particularly true for large fields of view, e.g. in TEM images by large detectors such as 4kx4k cameras or even larger. The BCOR had been designed to correct for both, the spherical aberration C3 as well as the off-axial coma B3. This enables aberration-free imaging even in the outer corners of of a large detector's field of view. The optimized corrector setup allows for correction of all parasitic(+) axial aberrations up to including 4th order and all off-axial aberrations up to including 3rd order. The BCOR design was carefully verified to avoid intrinsic(++), higher order residual off-axial aberrations and moreover allows for complete correction of the 5th order.six-fold astigmatism. In fact, the BCOR is the first corrector that realizes full "aplanatic" imaging in TEM.The BCOR has proven its capabilities in the field of materials science as well as in life science applications (e.g. single particle reconstructions) in that the whole recorded field-of-view is free from all dominant aberrations. This is especially useful in combination with very large camera systems (4k x 4k and larger).
(+) parasitic aberrations = aberrations that occur due to tolerances and uncertainties in the mechanical build-up of the corrector.
Features:
Hexapol-type Cs/B3-corrector for TEM
Correction of the off-axial coma B3 and of all parasitic off-axial aberrations up to including 3rd order, for resolution improvement in the outer image area.
Correction of all axial aberrations up to 5th order (We, C1, A1, B2, A2, C3, S3, A3, A4, B4, D4, A5)
Enables real "aplanatic" imaging in TEM
Information limit better than 70pm at 300kV
Compatible with the following TEMs: Hitachi HF-3300S, TFS Titan/Krios. Others on request.
Specifications:
Dimensions: 434 x 390 x 279 [mm]
Mode: TEM
High-voltage area: 60kV – 300kV
Applications:
For high-resolution TEM, especially for image acquisition with very large detectors (4k x 4k and larger) for material science as well as for life science applications.
Contact
Do you have any questions about the product or the application and extension for your e-beam system? Please contact us at info@ceos-gmbh.de