DCOR / ASCOR – Cs correctors for STEM with optimized aberration correction for large aperture angles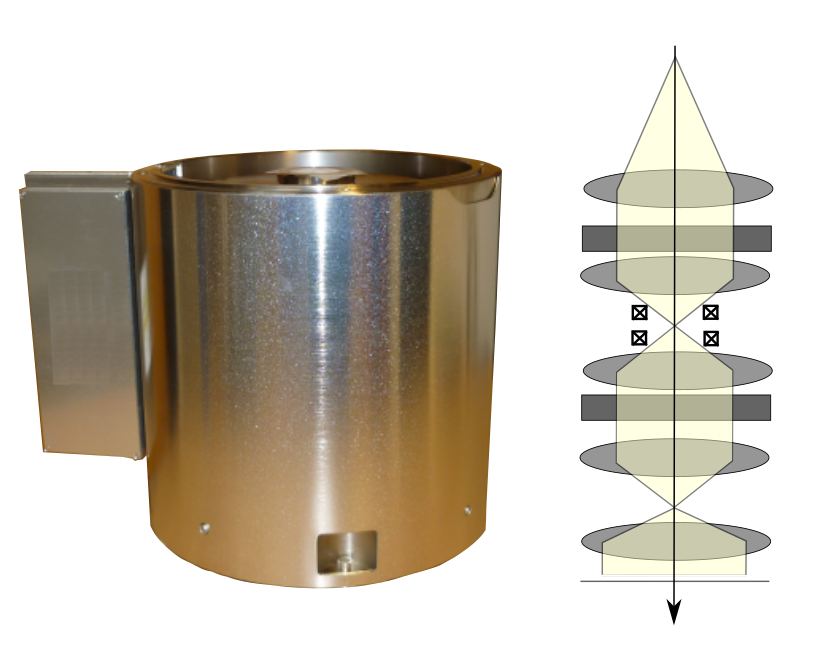 The CEOS Cs corrector for STEM "CESCOR" was a huge success. However, new applications with demand for larger aperture angles require a reduction of the intrinsic six-fold astigmatism. This can be achieved with the DCOR/ASCOR STEM corrector, which is the advanced development of our proven CESCOR. The optimized hexapole design the DCOR/ASCOR corrector combines the benefits of the CESCOR (simultanious improvement of resolution and increased beam current) with an almost complete suppression of the six-fold astigmatism A5. New degrees of freedom allow for a complete correction of all axial aberrations up to including 4th order. This enables highest resolution STEM images with semi-convergence angles beyond 40 mrad in the high-voltage range between 30kV and 300kV.The enlargement of the aberration-free probe aperture angle additionally improves the depth-resolution, i.e. the STEM image's sensitivity along the z-axis, and therefore enables a certain 3D resolution in STEM focus series.The DCOR/ASCOR performance, especially the suppression of the intrinsic six-fold astigmatism A5, is independent of the microscope's high-tension. Consequently, the advantages of this corrector are fully available at all accelerating voltages in the same way. You can find more information about  DCOR and ASCOR in our publications
P. Hartel, V. Gerheim, M. Linck, H. Müller, S. Uhlemann, Z. Zach, M. Haider. On the residual six-fold astigmatism in DCOR/ASCOR. Ultramicroscopy 206 (2019) 112821
and
H. Müller, S. Uhlemann, P. Hartel, M. Haider. Advancing the Hexapole Cs -Corrector for the Scanning Transmission Electron Microscope". Microsc. Microanal. 12, 442–455, 2006
Features:
Advanced Hexapole-type Cs-corrector for STEM
Increased resolution and simultaneously increased beam current compared to conventional STEMs
Correction of all axial aberrations up to 5th order: C1, A1, B2, A2, C3, S3, A3, B4, D4, A4, C5
Minimization of the intrisic six-fold astigmatism:|A5| < 0.2 mm
Equally good STEM performance between 30kV and 300kV for STEM images with probe semi-aperture angles above 40 mrad
Compatible with the following STEMs: TFS Titan 80-300 (DCOR) , JEOL JEM-ARM200F / NEOARM (ASCOR). Others on request. Others on request.
Specifications:
Device dimensions: 309 x 360 x 360 [mm] (DCOR)
Device dimensions: 255 x 407 x 323 [mm] (ASCOR)
Mode: STEM
High voltage range: 30kV - 300kV
Application:
High-resolution STEM for state-of-the-art electron microscopes
Depth resolution ("depth sectioning") in monochromated STEM
Contact
Do you have any questions about the product or the application and extension for your e-beam system? Please contact us at info@ceos-gmbh.de