Innovation Award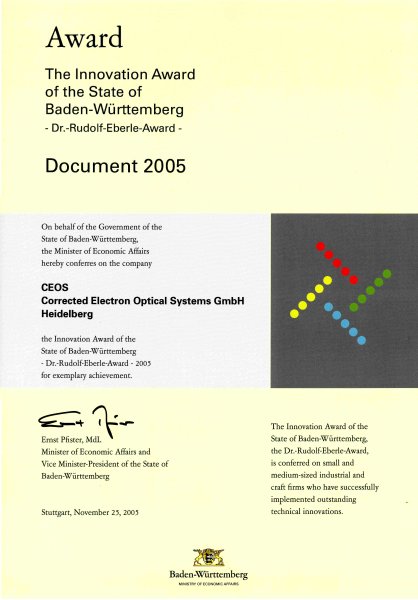 On November 25th, 2005, CEOS has received the Innovation Award of the German State of Baden-Wuerttemberg for the implementation of outstanding technical innovations. The award was presented to Max Haider (center), Managing Director of CEOS, by Ernst Pfister(right), Minister of Economic Affairs of Baden-Württemberg, and Prof. Dulger, founder of Prominent Dosiertechnik GmbH, at a ceremony at Stuttgart.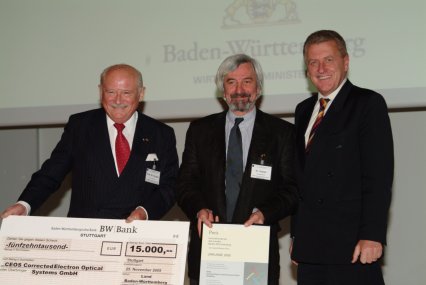 The "Stuttgarter Zeitung" wrote on Nov. 26th:
Vom Hightechmikroskop bis zum Edelstahlbehälter
Kleine Unternehmen im Land präsentieren pfiffige Ideen
Beim Innovationspreis des Landes Baden-Württemberg zählen ganz junge Unternehmen zu den Preisträgern. Die zweitplatzierte Ceos GmbH aus Heidelberg wird mit 15 000 Euro prämiert, die drei weiteren ausgezeichneten Unternehmen erhalten jeweils 5000 Euro.
Von Andreas Schröder
Die Corrected Electron Optical Systems (Ceos) GmbH hat hinter HPI Härle Produktentwicklung (siehe nebenstehenden Text) den zweiten Platz beim Rudolf-Eberle-Preis belegt. Das Unternehmen hat einen "Korrektor für höchstauflösende Elektronenmikroskope" entwickelt. Hintergrund für die Neuentwicklung sei, dass bisher noch keine Linse hergestellt werden konnte, die fehlerfrei arbeite, erläutert Maximilian Haider, geschäftsführender Gesellschafter von Ceos. Das neue System korrigiere diesen Fehler und verbessere so die Auflösung. Ceos beschäftigt Haider zufolge 24 Mitarbeiter und arbeitet mit den weltweit vier einzigen Unternehmen zusammen, die höchstauflösende Elektronenmikroskope herstellen - darunter Zeiss in Oberkochen. Der Korrektor wird dementprechend in Kleinserie gefertigt. Ceos hat 1996 mit vier Mitarbeitern angefangen und erzielte 2004 einen Umsatz von vier Millionen Euro. Die Heidelberger erhalten ein Preisgeld von 15000 Euro.